VILLAGE  | In a Nutshell
CISV Villages are international camps that inspire eleven-year-old children to imagine a more just and peaceful world.
Each Village welcomes delegations from 10-12 countries. Each delegation has two boys and two girls, accompanied by an adult leader. The camp is coordinated by adult staff, supported by Junior Counselors (age 16-17).
A Village creates a safe, fun setting in which your child will learn about each others' lives and cultures and how to communicate, cooperate and live together. The Village learning experiences and the friendships made will last your child a lifetime.
VILLAGE  | A Day in the Life
Village delegations travel to their Village adventures.
The Welcome Weekend – Homestay
After greetings by local CISV chapter volunteers, delegations begin a weekend homestay with local CISV chapter families. Meanwhile, leaders visit the Village site for orientation and final Village preparations with other leaders, junior counselors, and staff members.
Off to the Camp
After a weekend exploring the area, delegates reunite with their leaders at the Village site along with forty-four youth delegates from eleven other countries. Throughout Village, delegates enjoy fun and educational activities, community building, and hands-on learning with children from around the world. Each day marks an exciting adventure into experiential activities in which delegates work together to solve problems.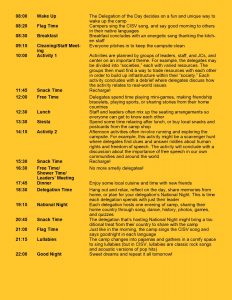 Learning at Camp
Villagers may discover their talents as natural leaders, or important collaborators providing thoughtful insight during activity discussions. In the evenings, participants wind down from the day by singing together and learning to say goodnight in many different languages. Villagers learn about cultures and traditions of other countries by trading CISV gear and souvenirs from their home countries.
Village and the Community – Open Day
During Village, the chapter hosts an Open Day event, giving delegates the opportunity to share a day of activities with the local community at the campsite. Visitors get a glimpse into life at village. Each delegation presents a "National Night" activity where they share their country and culture with the other participants. Often delegates wear traditional clothing, and share traditional music and food. Additionally, delegations prepare booklets with information about themselves and their country for everyone else to take home.
Mid-way Second Homestay
Halfway through camp, delegates spend a second homestay weekend with chapter families and new friends from other delegations. During this "leaders weekend," the staff, leaders, and junior counselors re-energize, review progress and make plans for the final two weeks of camp. Following the weekend away, the activities grow deeper, and delegates tackle real-world issues in empowering ways.
Excursions and the Gala Night
Throughout the program, the Village group will travel on several excursions into the local area for theme-based experiences, shopping, and fun. As the Village draws to an end, Villagers are given the opportunity to reflect on their experiences and prepare to share their learning at home.  A highlight of the Village experience is often a Gala Night. At Gala Night, everyone dresses up, sometimes in traditional clothing from their home country. This evening is a celebration with a wonderful night of dinner, friends, music, and games.
Bidding Farewell – Close of Camp
Emotions run high in the last days of camp as delegates, leaders, junior counselors and staff realize their time with new friends draws to a close. The campers spend the last night singing, viewing a slideshow of Village memories, writing notes to one another, talking about the impact of their experience, making plans for future visits and communication, and laughing and hugging through the tears. Villagers return home confident, inspired, and dedicated to changing the world.
Invitations